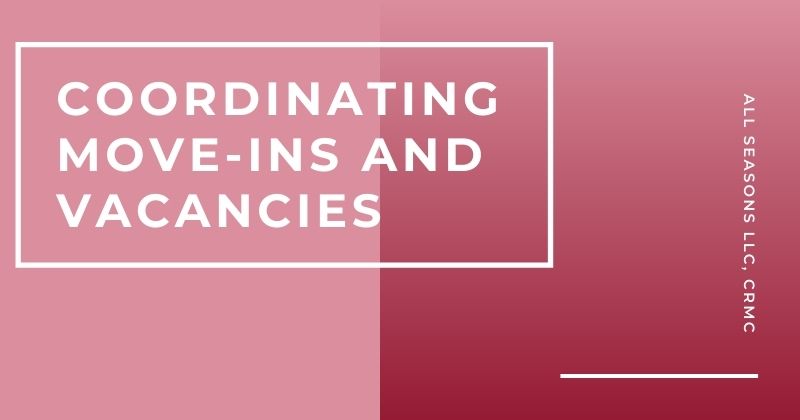 If you are a Landlord, renting out your property can lead to a lot of questions - especially regarding vacancies. At All Seasons, LLC CRMC, we take care of every aspect of managing your investment, to include handling vacancies, marketing, and turnover between tenants. You may be wondering what we do to keep the vacancy rate low and ensure the vacancy time is minimized. How can we keep that low vacancy rate but also best ensure the property retains its value and doesn't get run down over years of tenancies? This process starts long before the tenant even moves out.
We walk through our managed properties twice within the first year of tenancy and once every year after, unless more visits are warranted. Our Preliminary Walkthrough allows us to assess any major issues with the property as early into the tenancy as possible. This can bring to light potential lease violations or concerns that may occur and helps us address issues before they get worse. This ultimately eases the turnovers between tenants. For properties where the tenant is responsible for yard care, we also do Exterior Assessments three times each year. Our Property Assessment Specialist will check on the yard condition, document any potential issues with any trees or landscaping, as well as looking at other potential concerns the owner may need to be aware of, such as need for exterior paint or deck stain. All necessary follow up takes place shortly thereafter to ensure any lack of upkeep is addressed by the tenant and the owner has the opportunity to look at bids for exterior projects while the property is still occupied.
After a tenant submits notice to vacate, we start listing the property on our website and other marketing venues – usually approximately 45 days before the vacating tenant is expected out. This leads to often having the property re-rented before the vacating tenant has even left! Our average time between tenants is 7 days, which allows enough time for the proper documentation necessary to keep your investment in good shape and also ensures the incoming tenant is pleased with their condition at move in.
We make certain that the property is at the exact same level of maintenance from one tenant to the next. After each vacancy, we video document to identify any areas in need of attention before the next tenant moves in. We have an extensive checklist of maintenance to ensure everything is kept at the highest level of care – from the larger ticket items like carpet and landscaping to the minor details like filling nail holes and touching up paint. Prior to the tenants moving out, we provide them with a reminder of the strict cleaning requirements and a list of vendors that we trust to perform move out services like move out cleaning, carpet cleaning, yard work, and general maintenance that is the tenant's responsibility. While they're not required to hire our preferred vendors, we explain the benefit in doing so and offer to return their security deposit refund in ½ the time it would take if they did not hire our preferred vendors. This typically helps us minimize the time needed between tenants.
Our goal at All Seasons, LLC CRMC is to retain property value, offer tenants well maintained properties, and keep the vacancies to a minimum.
With our current market as hot as it is, properties have been renting very quickly this Summer and we are proud of a 0.29% vacancy rate as of 7/31/2021! Give our office a call today if you are interested in letting us manage your property! Our number is 719.632.3368, or you can get more information on our services at http://all-seasons.com